The HealthSouth Difference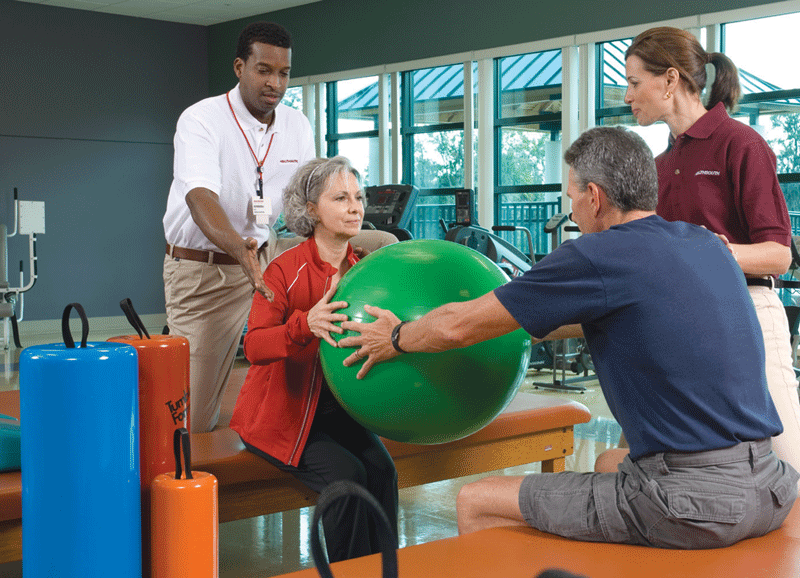 Comfort. Professionalism. Respect.
Those are the three words, or principles, that define the care provided at HealthSouth Rehabilitation Hospital of Western Massaachusetts in Ludlow, and they make clear why this state-of-the-art facility stands apart from all others in this region.
John Hunt, MA, CCC-SLP, the new CEO of HealthSouth explains:
"The focus of inpatient rehabilitation is to increase and restore as much function as possible, and to limit the amount of care that a patient and his or her family or caregiver may need to help them return to a more-full life following a life-changing event."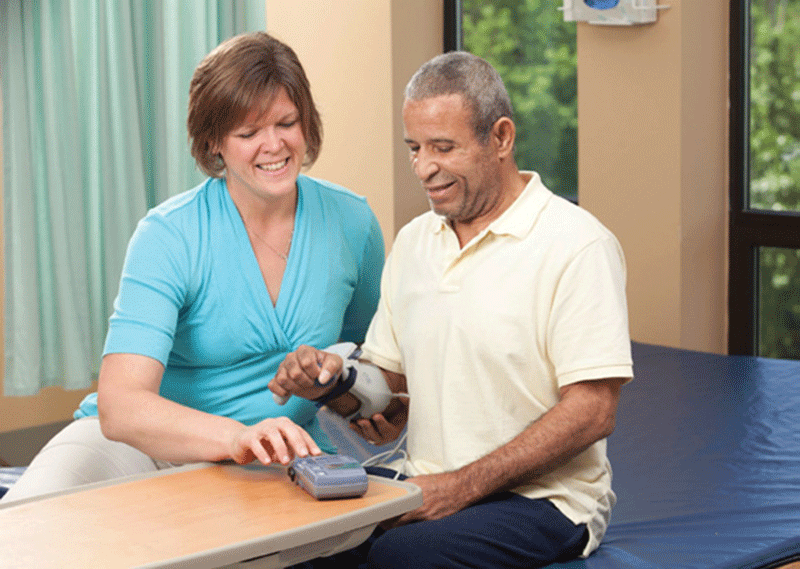 To succeed in this mission, HealthSouth focuses on a higher level of care that is decidedly personal in nature and anything but the cookie-cutter approach that seems to define much of the inpatient rehabilitation provided today.
"We do not see our patients as a diagnosis," Hunt explained, "but rather as a person with individual needs."
This philosophy, which has been a defining characteristic at HealthSouth since it came to Ludlow two decades ago, explains why this facility — and the team of professionals working there — sets the standard when it comes to caring for those who have suffered stroke, traumatic brain injury, amputation, and other serious injuries and illnesses.
As an acute inpatient rehabilitation hospital, HealthSouth operates under the rigorous guidelines of the Centers for Medicare and Medicaid. As a result, patients and their families benefit from:
• An intensive therapy program tailored to the patient's needs;
• A multi-disciplinary approach to the patient's care;
• Frequent visits by rehab-trained physicians;
• Exceptionally trained therapists;
• Specialty-trained nurses;
• Weekly team conferences, family meetings,
and community outings.
"In my 30 years in rehabilitation, I have never seen a facility or a team quite like this," said Hunt of his decision to join HealthSouth. "The pride that I see people taking each day is awe inspiring to say the least."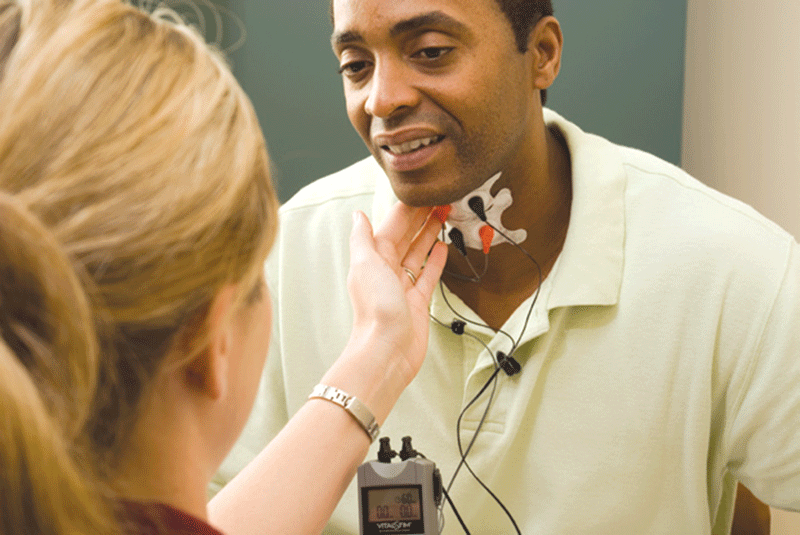 That pride is the HealthSouth Difference.
And that difference is why you and your family should choose this exceptional facility for comprehensive inpatient rehabilitation.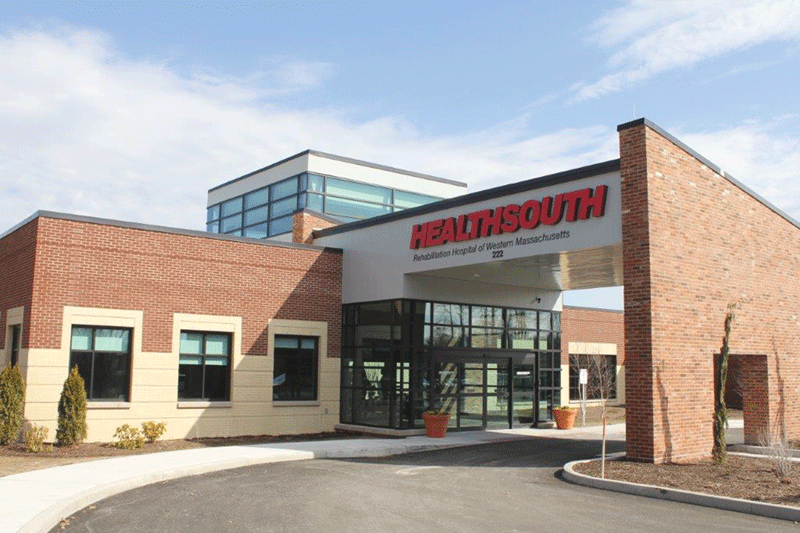 State of the Art In Every Way
When HealthSouth decided years ago to build a new facility in Western Massachusetts, it made two fundamental decisions.
The first was to build in Ludlow, it's home for more than 20 years. The second was to build the most advanced, most comfortable, most state-of-art facility of its kind in this region.
To say HealthSouth has succeeded in that mission would be an understatement.
Everything about this facility, built at the historic Ludlow Mills site in the center of this community, is not only state-of-the-art and LEED-Gold certified, but truly patient-focused and patient-friendly.
"That's how you build a first-class facility, which is what we have done here," said Hunt. "You focus on the patient and their family, and you never lose that focus. If you're always thinking about the patients and their specific wants and needs, then you can build a rehabilitation hospital that stands apart."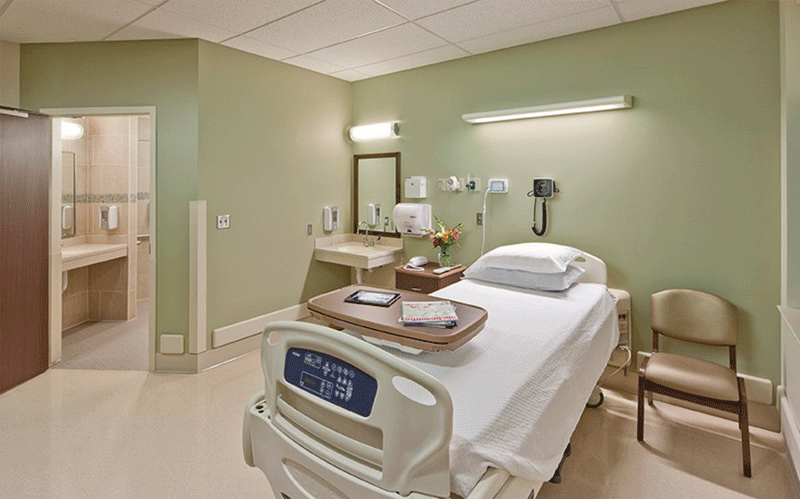 The 'new' HealthSouth does that, in many ways. Here are just a few examples:
• Private rooms. Each patient at HealthSouth gets his or her own room, something no other facility in this region provides. This assures respect and privacy, keys to an individual being comfortable as they recover from injury or illness;
• Private, large bathrooms equipped with showers;
• A large gymnasium equipped with the latest equipment designed to help speed one's recovery from illness or injury and build self-esteem;
• A courtyard that acts as a park and therapeutic area featuring stairs, inclines, and a variety of surfaces — from gravel to sand — that patients with mobility issues will face when they return home.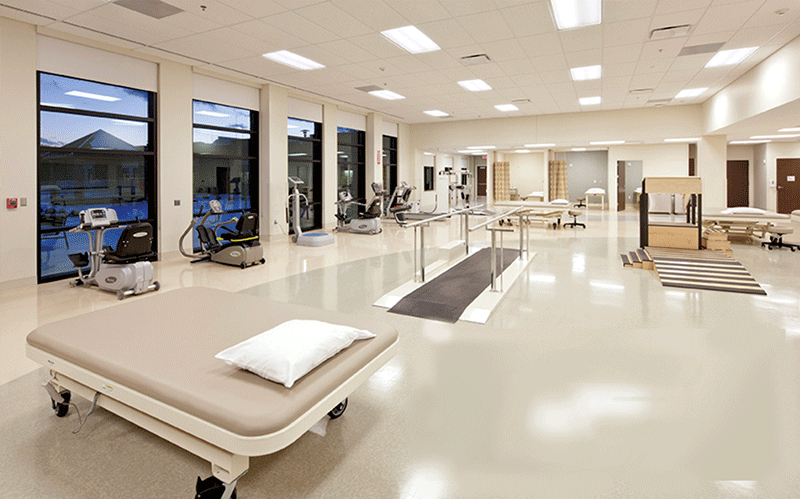 In all these ways, and many more, the new HealthSouth represents the future of rehabilitation care — only it is available now.
However, a state-of-art facility is only part of the story.
"You can have the most beautiful building in the world, but if you don't have the best nurses, the best therapists, and the best doctors, it doesn't make a difference," Hunt explained. "We have incredibly talented and versatile therapists, nurses, and physicians. This building lends itself to a great patient experience."
And this is another big reason why you should choose HealthSouth.